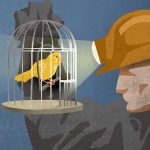 Coal miners used to bring canaries with them into the mines to detect toxic gasses commonly found in mines. Canaries would die when the gasses were present, but while still at levels not fatal to humans. They were an early-warning sign. The challenge is that you would have to keep an eye (or an ear) on them to heed their warning. If you were busily mining your coal (a rather noisy job to begin with), you could easily overlook the warning sign of a dead canary—much to your peril.
Think of your technical writer as a canary (that can also type).
I read a lot about how API documentation is deficient, how it should be automated, and how it should be made easier to produce and update. I'm all for making it easier to write and maintain, but I think replacing the canary with a device or process that won't let you know when there's trouble ahead is solving the wrong problem.
Why IS your API hard to document?
It could be that it's toxic and you haven't noticed the dead canary.
I read The Top 20 Reasons Startups Fail that studied the reasons that failed startups reported as why they failed and the reasons looked surprisingly similar to challenges I've seen in my career of documenting and researching APIs.
Coincidence? Let's take a look.
There's no market need
This is the #1 cause for failure cited by the startups reviewed in the CB Insights study.  What does this have to do with an API?
If there's no market need, what user cases will the documentation address? To whom will the technical writer be explaining all these features? With what burning customer pain-points or unmet needs will the documentation connect? What sort of demos and tutorials will need to be written (or referred to) that demonstrate solutions to customer problems? Why will anyone care?
Continue reading "If your API is hard to document, be warned"