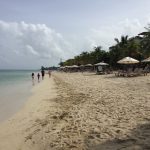 Although I've been in the field conducting research for the past month (in places, such as depicted in the photo), I still managed to publish and "present" several research papers that have to do with the piClinic Console. More are still in the pipeline, so stay tuned…
In Using Independent Studies to Enhance Usability Assessment Skills in a Generalist Program, co-authored with Dr. Pam Estes Brewer, Associate Professor in my department, we talk about how we used the development of the piClinic Console as an independent-study project for one of her usability research students. Dr. Brewer presented this paper July 23 at the IEEE PROCOMM conference in Toronto. The short story is the project provided an excellent challenge for her student and her student provided vital usability research data that informed the design's iterations throughout the year.  The paper also describes some of the other projects we've used to help develop future usability researchers.
Enriching Technical Communication Education: Collaborating Across Disciplines and Cultures to Develop the piClinic Console, was just presented in Milwaukee, WI at the 36th ACM International Conference on the Design of Communication. Instead of a personal appearance, I sent them this video to present in my stead. The paper details the design process and how it was applied to our technical communication curriculum. For example, as the usability research independent study project described in the preceding paper. Other tech comm lessons the project has produced include some visual UI design, the production of the promotional video that appears on piclinic.org, and several projects for the computer engineering department. The video, on the other hand, provides some of the back story behind the project.
For more interesting articles, see the complete list of my publications.