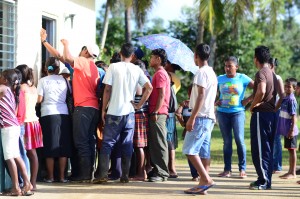 My wife and I were part of team who staffed the medical and dental clinic in Rus Rus, a small village 70 miles inland from the Caribbean coast and five miles north of Nicaragua. In our most recent trip to Honduras, I had  time to mingle with the people who came from miles around to visit us in-between my radio-operator duties.
I speak enough Spanish to carry a conversation, but that's of only minimal benefit it Rus Rus. The majority of people who came to visit us spoke only Miskito. Nevertheless, I managed to chat with a few of the people who spoke Spanish. I didn't plan to interview them, but my curiosity can be hard to suppress.
I'm fascinated by the insights that simply chatting with the customer can reveal (to the point I'm getting a degree in it). By listening to the locals, I found that our visits are quite welcome by the local population, but they can also be quite an exercise in patience for them. And, that's after they walk for hours, or days in some cases, to visit us. In keeping with my theme for this year, I consider…
The Story of Luis
When I met Luis, he had been waiting outside the clinic for over a day to have a painful tooth extracted (after suffering with it for several months before our visit). Luis lived about two hours away by truck or five or six hours away on foot. At this point, Luis was getting pretty hungry because the last time he'd eaten was before leaving to come visit us.
The dental clinic is very popular on these trips, and there is always quite a queue for the services they provide–often, there are many more patients in need of dental services than we can accommodate. Not knowing that he might have a long wait to see the dentist, Luis didn't bring any food with him and returning home for the night wasn't a viable option. Luis was debating whether to return home (in order to eat) or continue waiting to have his tooth pulled–a difficult decision given the lack of information he had available. I hope he was seen, but I wasn't able to follow up with him–I had to return to my duties as the team's radio operator shortly after our conversation.
Fortunately, IHS of MN, the group that organizes the trip, cares about their service. Hopefully, we'll come up with a way to help people like Luis come prepared for a longer wait, or maybe provide more information about where they are in the queue so they can make an informed decision about what to do. Because they actively seek feedback from the volunteers, I'm sure we'll do better to make time.
On this trip, I'm glad I was  able to have a chance to see how our visits looked through the customers' eyes and be able to provide that feedback.