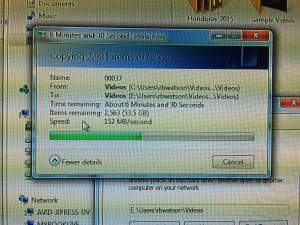 Only 13 years ago, I bought my last desktop computer. Rest assured, I've bought newer computers in the intervening years, but they've all been laptops of various makes and sizes. My most recent laptop was more like a portable desktop in terms of CPU (Intel I7) and memory (8GB…it seemed like a lot for a laptop, 2-1/2 years ago) and a fancy graphics chip. I thought that would make a reasonable replacement for my aging desktop, but after editing some video recently, I reevaluated that conclusion. I think it was when the keyboard reached 150+ degrees Fahrenheit (according to the IR thermometer).
In 2002, when I bought the last desktop for video editing, this it what $2,000-some would get you: 1 GHz 32-bit processor, 1 GB of RAMDAC memory, 100Mb/Sec Ethernet, Firewire 400 and USB 2.0 (stop giggling). It's gone through a few hard drives, video cards, monitors, and other peripherals, but it's still chugging away running Windows XP (SP3). For several years, it did a decent job editing DV videos with reasonable aplomb. However, since almost melting the keyboard of my laptop, I've been shopping for a new desktop–until last weekend.
I saw the computer I wanted on sale at Costco and, as often happens when visiting Costco, it somehow ended up in the cart. Since then, as I should be revising my dissertation, I've been going through the process of migrating the features and functions the old desktop performed to the new computer. Eventually, the old desktop will join the collection of obsolete computers that have taken residence out in my garage. It's in the process of migrating from the old to the new that I provides the contrast between then and now.
Starting with Firewire 400. Who uses that? (I do.) I need this to connect to my DV and HDV camera and tape deck collection at least long enough to copy their content to a hard drive.
And the RS-232 serial ports. When did they stopped including those on computers? I still have some devices that connect over serial cables, so I'll add a couple of ports for those.
While addding these cards helps bridge the technological generation gap(s), I'm hardly sad about how technology has improved over the years. Gigabit-ethernet makes connecting to the NAS much faster. SATA drives are a big step up from the older ATA drives in speed and capacity, increasing file transfer speed considerably.
But the biggest treat came from the solid-state drive (SSD) I added, which made possible sustained file transfer rates from the internal SATA drive of more than 150 megabytes/second (as in the photo). That's  8-10x faster than the desktop it replaced and 3x faster than the laptop that was supposed to be my next desktop–this is now limited by the SATA drive.
So back to copying files and installing apps.