I'm still intrigued by my discovery from yesterday that I describe in API documentation research-Where's Tech Comm? The idea seems like it might have some legs for some tenure-worthy academic paper(s), so I thought I'd dig into it a bit more to see what I might be signing myself up for.
And the plot thickened. Which, for an academic, is a good thing in that it means it has potential for papers, talks, and maybe even a book? (Yippee!). But, I'm getting ahead of myself. (No book tours, yet.).
Disclaimer: what follows is a peek into my notebook and represents a work-in-progress. Any claims I make (or appear to make) are subject to change as the research progresses.
I started to take the study a little more seriously and methodically–i.e., I started collecting data. For now, my working research questions evolved from, "Why are only computer science researchers studying API documentation and why don't they refer to technical communication research much (or at all)?" to "Have computer science researchers ever heard of technical communication research?!" and vice versa.
Google Scholar is for Computer Science research
In searching for "API Documentation" on Google Scholar, I collected something like 50 articles and papers having to do with API documentation over the years (The earliest paper I've found, so far, is from 1996). The following figure shows the distribution of papers by year published.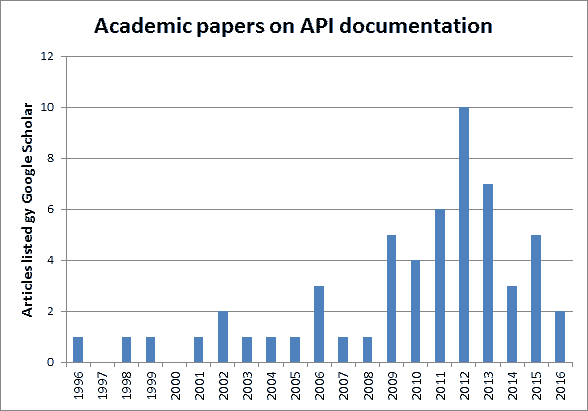 It's good to see the topic being researched (finally!). I started studying them around 2008-2009 when, as you can see in the chart, there weren't many to use as a reference. As academic fields of study go, this is definitely a niche topic. And, yes the bars add up to more than 50-something because I'm still in the process of cleaning my data set. The numbers are going to be rough in the meantime, but they seem representative if they aren't precise, yet.
The more I looked at the academic papers I was collecting, the trend of them being from computer science(y) journals and conferences was even more skewed as this chart shows.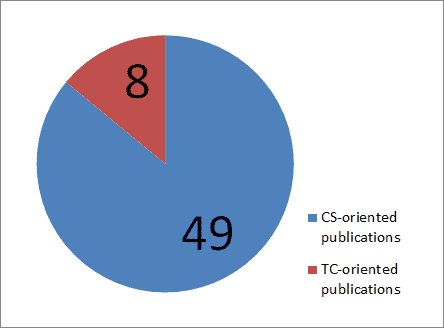 From the look of that graph, you could think that TC is hardly talking about API documentation. It's even more stark when you take into account that I wrote 5 of the 8 articles in the TC slice of the pie.
Yet, I hear lots of API documentation talk on TC social media channels and Linked in has several groups dedicated to the topic so something isn't passing the sniff test.
Is TC research on API documentation only published in blogs
As a reality check, I went to regular Google and search on API documentation and found a whole bunch of relevant topics. I haven't formally collected them into my list, so I can't say how many, yet, but it was clearly being talked about on the web. From a quick skim, the articles from the general web seemed to be more TC oriented than CS oriented (but, don't quote me, on that, yet).
What slowed my progress down, momentarily, was I wanted to study the scholarly articles they were using as their references. I think that's where some tenure-worthy research opportunities will be found. I'm (slowly and tediously) categorizing the references cited by each of the scholarly articles to get an idea of what they're basing their research on. While that's going to be tedious (i.e. incredibly tedious: 50+ articles each with 30+ references = 1,500+ citations to clean up and organize–if only they just attached a metadata file).
Unfortunately, the blog posts and informal references from the TC community in "regular" Google don't tend to list as many citations as the academic articles, so looking for their foundations is going to take some more detective work. But, one thing at a time.
What it's looking like, however, is that the academic CS scholars don't refer to much in the way of TC research. I suppose that if they don't provide any citations, you could say that the TC research doesn't either. Maybe I'll need to turn to some tcmyths for more info?
In any case, regardless of where this goes, I'll end up with a killer bibliography of API documentation!