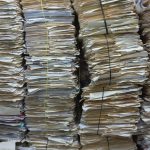 It seems as though I've been "catching up" since I started as an assistant professor, and I'm not sure I've gotten any better, but I keep trying.
Summer break is just weeks from turning into the Fall semester where I'll dive into my second year as an Assistant Professor. While I'm looking forward to it, I really need two more months of summer to catch up.
As I get used to academia, I'm finding the term Summer break to be a bit misleading. While it's a break in the academic year, I've been too busy to consider it much of a break. Granted, I've been having fun, and it's nice that work is fun.
Summer started off with a trip to Honduras, where I was able to conduct some site visits and contextual inquiries in how limited-resource health clinics manage their records. After two weeks of visiting five different clinics in Honduras, I came back with enough research to complete a conference paper, start a journal article, apply for a grant, and get an internship for one of our TC students…and that was all before the spring semester had officially ended.
After returning, of course, I had to actually produce the papers for which I'd collected the data and prepare for the conference presentation that I'll be making next week with two professors from my department at the IEEE ProComm 2017 conference in Madison, WI.
One happy coincidence I had this summer was to meet some super technical writers from the Denver-Boulder (Colorado) area at a Write-the-Docs meetup. As luck would have it, their meeting and my travel managed to coincide last night in Broomfield, CO and I got to meet some of the tech writers that, until last night, only knew through email and the WTD forum.
But, busy is good. I'm looking forward to next week's conference and, of course, the semester that starts just a few weeks after that.