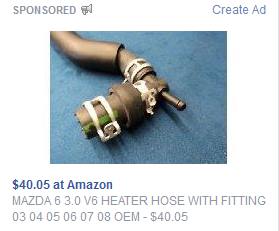 The other day, this little plastic piece broke causing my 9-year-old car to spray hot engine coolant all over the road and emit plumes of steam from under the hood. AAA rescued the car and a tow truck  brought it home. Fortunately, the broken part was easily visible in the engine compartment and a quick search identified several options for purchasing a replacement.
As auto parts go, it looked like one of the easier to replace, but it broke on Monday and I wouldn't be able to get to it until the weekend, which would inconvenience my wife and daughter who drive the car. So, I called my favorite auto mechanic, Accurate Auto Service, in Snohomish, who could (and did) fix it right away.
Problem solved. Which brings me to…
Yesterday. Facebook tried to add value to my browsing experience (and their bottom line) by showing me the ad in the photo.
Thanks, but no thanks.
They do this a lot, and while I understand how Facebook lives to sell ads, I'm not sure why they think that showing me something I looked for (and found) two-days earlier is something I might still be interested in. I'm sure they have the numbers to show this works enough to keep doing it, but it brings to mind some troubling implications:
What were they  (i.e. their algorithm) thinking when they picked this ad? Is that how I really shop? (maybe) but more troubling still, what else do they know about me better than I do? Which leads to…
How were they watching (I know, tracking cookies and what not, but how far does that go? Are they watching me type this?)
What would I have thought if this had happened 10 years ago? 20 years ago? (There's another blog post)
Why does this not bother me anymore? Are baby pictures and cute dog videos really that valuable to me?
How did I ever survive without Facebook there to show me baby pictures for the low, low price of being able to look over my shoulder when I do other things on the Internet? Truth be told, it's really easier to just stop thinking and look at the cute baby pictures–and therein lies the real problem.