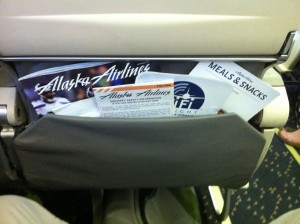 I'm working on a paper for the HCII 2015 conference and thought of the reading material I saw on a recent airline flight. The paper discusses ways to identify the goals of different types of information-focused web content and how to measure how well the content is accomplishing those goals, so now I see this everywhere I look.
This is what occurred to me while I was staring at this collection of literature for several hours.
The Alaska Airlines magazine
It's goal is to provide the reader with entertainment, er, I mean provide them with advertising, using entertainment as the bait. So how would you measure success? Interaction with the content, maybe? Coupon codes entered, products ordered from the web links, and other interactions traceable to the magazine. Pretty straightforward. Content can be compared to the corresponding advertisement, reader feedback, and the publisher can decide what's working and what needs work.
The airsick bag
This isn't really literature, but a good case of "if it's not easy to use, it's going to get messy." I don't think any amount of documentation could fix a poorly-designed air sickness bag.
The emergency procedures brochure
This is everyone's favorite reading material, right? It's goal is to provide important information and provide it in a way that's easy to understand (quickly, in the worst-case scenario). This is a document that Alaska Airlines (and its passengers) hope to never need, but when it's needed, it's value will be immeasurable. How do you track that goal? User feedback? probably not. Survivor stories? Let's hope not! Maybe usability testing?
The WiFi and the "Meals & Snacks" advertisements
Again, this is purely promotional material whose effectiveness can be tracked by sales. Like the magazine, this is not unfamiliar territory.
What's this got to do with me?
As a writer of help content, I relate to the emergencies procedures brochure. Sometimes I don't think anyone reads my content and frequently, Google analytics tends to agree with me. But, I know that in some cases, when those few people need to read it, that's going to be the most important thing for them to read (if only for that moment). If I've done my job right, what I've written will save them time and money. I'll never know that from looking at Google analytics, but, a usability test (even an informal or discount test) will tell me if a topic will be ready to save the day (moment) when it's called upon to do so.
Back to the paper.